About Us
The Frerichs Law Office was started in 1996 by Al & Tom Frerichs and they have been fighting for the wronged and oppressed ever since. Al retired in 2000 after a long and successful career handling Criminal Defense, Personal Injury, and Civil Rights cases.Tom has since continued in his father's path, successfully litigating criminal defense cases and protecting the civil liberties guaranteed to the people.
Tom Frerichs
Attorney at Law
Tom Frerichs has over 20 years of experience practicing law, winning numerous civil and criminal jury trials and finding justice for countless clients. After graduating from the University of Northern Iowa with a dual BA in Political Science and German, Tom decided to follow in the footsteps of his father, Clarence "Al" Frerichs, and go into law. He earned his Juris Doctorate from the California Western School of Law in 1991 and began his legal career with his father's firm, Fulton, Frerichs, Martin & Andres. In 1996, Tom and his father established the Frerichs Law Office, P.C., which continues in Al's memory.
Al's fierce advocacy for social justice set an important example for Tom early on. While his practice was initially built on criminal defense and personal injury, Tom has gained repute as an attorney who fights passionately against wrongful conviction and police misconduct. In one case, Tom pursued post-conviction relief for Terry Harrington, who served 26 years in prison with Curtis McGhee for a murder they did not commit. Tom won a new trial for Harrington in 2003 and, after successfully exonerating him, joined forces with the renowned trial lawyer Gerry Spence and the Spence Law Firm. Together with McGhee's counsel, they earned a hard fought settlement of over $18 million for misconduct and wrongful conviction of the two men. In addition to this, Tom has helped clients obtain over $17.5 million in settlements and verdicts for police misconduct cases alone. One of the largest of these cases involved a speeding police car that struck a teenage driver broadside, paralyzing the teen for life. The case had been abandoned by other attorneys and was facing dismissal when Tom and a fellow attorney, John Rausch, took it on. In 2013, they worked with Spence Law Firm to obtain a $13.7 million verdict. This was nearly three times the largest verdict ever recorded in Black Hawk County, a record previously shared by Al Frerichs.
Today, Tom continues to dedicate his work to fighting injustice in Iowa and around the country.
Adam Junaid
Attorney at Law
Adam is an Iowa boy, through and through. He was born and raised in Waterloo, IA, and graduated from Waterloo West. After high school, he attended the University of Iowa, where he graduated with a Bachelor of Arts degree in History. It was during his undergraduate studies that Adam first became passionate about civil rights. He decided to pursue a career in law so he could fight for those who otherwise have no voice. He obtained a Juris Doctor degree from the University of Iowa College of Law in 2006.
Adam practiced law in Chicago, IL, for a few years after law school before returning home to Waterloo. He hung out his shingle and practiced as a solo practitioner for 5 years before joining the Frerichs Law Office.
Adam continues to fight for civil rights in his legal practice, where he practices primarily in the areas of criminal defense, civil litigation, police misconduct, and civil rights.
Education:
University of Iowa, B.A., history, 2002.
University of Iowa, College of Law, 2006.
Bar Admissions:
Illinois, 2006.
Iowa, 2011.
U.S. District Court for the Northern District of Iowa, 2016.
U.S. District Court for the Southern District of Iowa, 2016.
Professional Associations and Memberships:
Iowa Association for Justice
Iowa State Bar Association
Black Hawk County Bar Association
National Association of Criminal Defense Lawyers
Luke Guthrie
Attorney at Law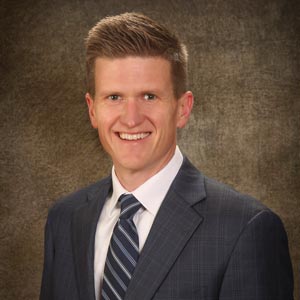 Since graduating from Creighton University School of Law in 2006, Luke D. Guthrie has had a passion for helping people. Luke began his practice at Iowa Legal Aid in Des Moines and Waterloo. His areas of practice include criminal defense, social security disability, personal injury, family law, workers compensation, employment law, police misconduct, and civil rights. He is a member of the Black Hawk County Bar Association, Iowa State Bar Association, and Iowa Association for Justice.
Luke is an avid runner and endurance athlete, participating in numerous road races around Iowa each year. He is a member of the Iowa State Bar Association's Wellness Committee, which helps identify factors that impact lawyer wellness, recommends programs to promote health and wellness of the Iowa Bar, and educates the judges and membership about wellness issues and resources.
When not in the office, Luke is an Elder at his church and enjoys spending time with his family, cooking, and traveling.
Education:
University of St. Thomas, cum laude, 2003
American University Public Policy Semester 2002
Creighton University, J.D. 2006
Bar Admissions:
Iowa, 2006
Professional Associations and Memberships:
Iowa State Bar Association
Iowa Association for Justice
Black Hawk County Bar Association
Dawn Lalk
Paralegal